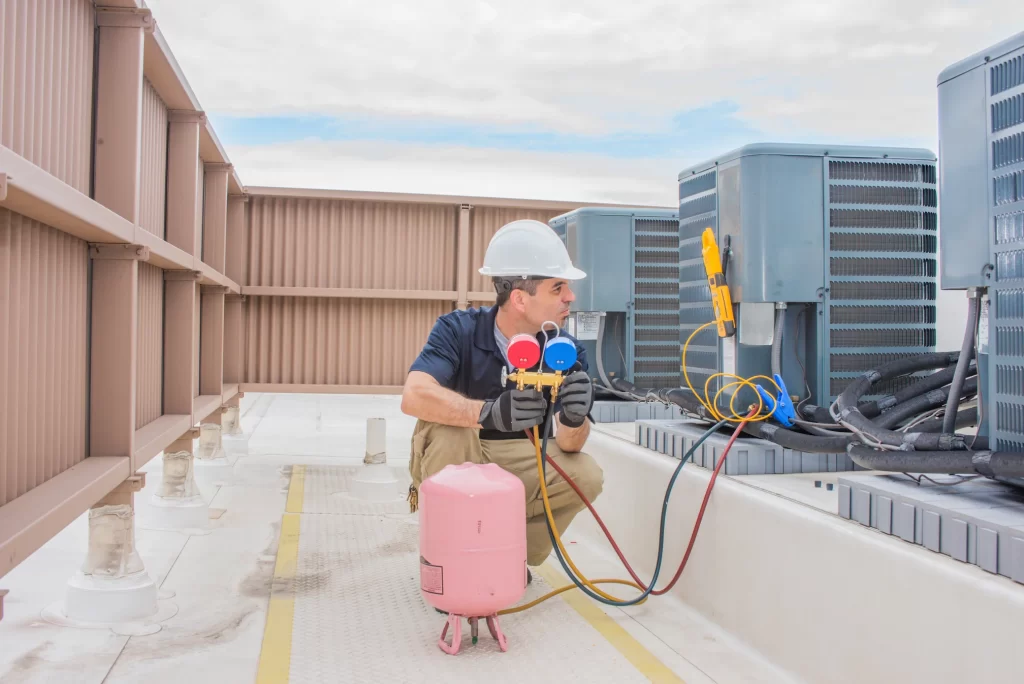 Are you tired of sweating through the San Diego heat? A malfunctioning AC can be a nightmare, leaving you feeling hot and uncomfortable in your own home. Don't worry, Morey Plumbing, Heating & Cooling, Inc. has got you covered! Our team of HVAC experts are committed to delivering high-quality AC repair services that will keep you cool and comfortable all year long. In this blog, we'll walk you through the signs of a malfunctioning air conditioning system and what goes into our AC repair process. We'll also discuss common AC system issues and how regular maintenance can help improve efficiency and lower energy costs. Why suffer through another hot day when professional AC repair services are just a call away? Choose Morey Plumbing, Heating & Cooling, Inc. for all your air conditioning repair needs in San Diego, CA!
Why Choose Morey Plumbing, Heating & Cooling, Inc. for Your AC Repair?
Looking for reliable AC repair services? Choose Morey Plumbing, Heating & Cooling, Inc. Our team of AC repair experts offers professional air conditioning installation, repair, and maintenance solutions. With extensive experience and a commitment to customer satisfaction, we prioritize high-quality AC repair. Plus, our financing options make it affordable and convenient for you.
Our Commitment to AC Repair Quality
At Morey Plumbing, Heating & Cooling, Inc., we prioritize the quality of our AC repair services. Our commitment to excellence is evident in every job we undertake. We use only high-quality replacement parts, ensuring long-lasting solutions for your HVAC system. Our technicians follow industry best practices and standards, utilizing their expertise and skillset to deliver exceptional customer service. With Morey, you can trust that we strive for complete customer satisfaction with every AC repair job or air conditioning replacement that we do.
Our Expertise in AC Repair Services
At Morey Plumbing, Heating & Cooling, Inc., we specialize in providing comprehensive AC repair solutions. Our team of highly skilled technicians has extensive knowledge of various AC systems and brands. They are equipped to diagnose and repair a wide range of AC issues, from compressor malfunctions to refrigerant leaks. Whether it's a residential or commercial property, we offer prompt, reliable, and professional AC repair services. Trust us for all your San Diego AC repair needs.
Recognizing the Signs of a Malfunctioning AC
Recognizing the signs of a malfunctioning AC is crucial for maintaining a comfortable indoor environment. Strange noises or smells coming from your HVAC system may indicate a problem and should be addressed promptly. Additionally, inefficient cooling, an unusual spike in energy bills, frequently turning on and off, and poor air quality near vents are signs that your air conditioner may be malfunctioning. If you notice any of these issues, it's essential to seek professional AC repair services to avoid further damage and ensure optimal performance.
Strange Air Conditioning Noises or Smells
If you notice unusual banging, rattling, or grinding noises coming from your HVAC system, it could indicate AC system problems. Foul odors, such as moldy or burning smells, are also signs that there might be AC issues. Additionally, strange hissing or squealing noises could be a result of refrigerant leaks or compressor problems. To prevent further damage and ensure your safety, it's important to have professionals inspect AC systems emitting electrical or metallic odors. Similarly, a musty or damp smell near vents may indicate mold or moisture issues within the system.
Inefficient Air Conditioning Cooling
If your HVAC system is struggling to cool your space despite regular maintenance, it may be a sign of underlying issues. Uneven cooling, where certain areas of the room are cooler than others, could also be a red flag for AC problems. If your AC system takes longer than usual to reach the desired temperature or if the air doesn't feel cool enough, it may be time to consider professional AC repair services for various kinds of systems. Additionally, if your AC constantly runs but fails to adequately cool your space, it's best to seek professional attention.
Unusual Spike in Energy Bills
If you've noticed a sudden increase in your energy bills without any change in usage, it could be due to problems with your AC system. Inefficient AC systems consume more energy, resulting in higher bills. Faulty thermostat settings or malfunctions can also cause your energy bills to spike. Additionally, clogged air filters or ductwork can make your AC system work harder, leading to increased energy costs. Refrigerant leaks can also make your AC system energy inefficient, impacting your energy bills. Don't ignore an unusual spike in energy bills; it could be a sign of underlying AC system issues.
What Goes into Our AC Repair Process?
Our AC repair process begins with a thorough inspection to accurately diagnose the problem. Our skilled technicians are equipped with the latest tools and techniques to provide efficient repair solutions. We strive to minimize downtime by offering timely repair services, and we always provide transparent pricing and upfront cost estimates. These qualities have made our company known for AC repairs San Diego trusts!
Detailed AC Inspection and Diagnosis
Our team of highly trained technicians conducts a comprehensive assessment of your HVAC system components to ensure a thorough inspection and diagnosis. Utilizing advanced diagnostic tools, we identify the underlying issues causing your AC malfunction, including problems with electrical, plumbing, and ductwork systems. We also evaluate refrigerant levels and assess the condition of your air filters. This detailed approach allows us to accurately diagnose the problem and provide effective repair solutions, ultimately helping you avoid high energy bills. Trust us for a professional and customer-focused inspection and diagnosis of your AC system.
Comprehensive AC Repair Solutions
Our professional AC repair services encompass a wide range of comprehensive solutions to ensure the optimal performance of your HVAC system. Our skilled technicians are equipped to promptly repair various components, including the compressor, condenser, and coils. We also specialize in the replacement of faulty electrical components such as capacitors or fan motors. Additionally, we offer expert repair of refrigerant leaks and system recharge. Our thorough cleaning of condenser coils and duct cleaning, along with the alignment and calibration of your thermostat, guarantee optimal performance.
Post-Repair Services
After completing the AC repair process, our team goes the extra mile to ensure your satisfaction. We conduct thorough testing of your HVAC unit to guarantee its proper functioning. Additionally, we adjust the system settings according to your preferences, ensuring that you're comfortable in your space. Moreover, we provide recommendations for routine maintenance to prevent any future issues with your air conditioner. To give you peace of mind, we also offer a warranty for our repair services. Our commitment to quality doesn't end after the repair is done; we provide ongoing customer support and assistance for maintaining your HVAC unit.
Dealing with Common AC System Issues
In order to ensure optimal performance and prevent potential damage, it's important to address common AC system issues promptly. Leaky AC units can lead to water damage and mold growth if left unattended, so effective solutions should be implemented. Frozen or dirty coils can hinder cooling efficiency, requiring identification and repair. Faulty thermostats can disrupt accurate temperature control, while electrical system issues can lead to AC system failure due to corrosion. Lastly, addressing refrigerant leaks is essential for optimizing overall AC system performance.
Leaky AC Units
If you notice water pooling around your air conditioner, it may be a sign of a leaky AC unit. To address this issue, our professionals conduct a thorough inspection of the condensate drain line to check for any clogs or leaks. We also repair any damaged drain pans or drain lines and replace faulty condensate pumps to prevent water overflow. Additionally, we recommend regular cleaning of air filters to avoid clogs and can install moisture detection systems for early leak detection. Trust us for professional AC repair services.
Frozen or Dirty Coils
To ensure the optimal performance of your HVAC system, it is important to address the issue of frozen or dirty coils. Cleaning the evaporator coils regularly eliminates dirt, dust, and mold buildup, improving the air conditioner's efficiency. Identifying refrigerant leaks that cause coil freezing and repairing them is also crucial. Replacing air filters on a regular basis prevents clogs and dirty coils. Additionally, optimizing the air duct system ensures proper airflow and cooling efficiency, keeping you comfortable during the summer heat.
Faulty Thermostats
Calibrating the thermostat is crucial to ensure accurate temperature readings. Our technicians are skilled in repairing electrical connections and wiring issues that may disrupt the thermostat's functionality. If necessary, we can replace malfunctioning components such as sensors or display screens. Consider upgrading to a programmable or smart thermostat for enhanced control over your HVAC system. We also take pride in educating homeowners on proper thermostat usage and energy-saving settings. Trust us to resolve any issues with your thermostat professionally and efficiently.
Why Regular AC Maintenance is Crucial?
Regular AC maintenance plays a crucial role in ensuring the peak efficiency and lifespan of your cooling system. It helps prevent costly breakdowns and repairs while improving air quality through regular cleaning of filters and ductwork. Additionally, routine maintenance provides peace of mind, knowing that your AC unit is functioning optimally.
Improved Efficiency and Lower Energy Costs
When it comes to AC repair, improving efficiency and reducing energy costs are key benefits of regular maintenance. By keeping coils clean and ensuring proper refrigerant levels, you can optimize cooling performance and minimize energy consumption. Regular maintenance also prevents clogged air filters, improving airflow efficiency and reducing strain on the system. Another important aspect is thermostat calibration, which ensures accurate temperature control and avoids excessive energy usage. With these measures in place, you can enjoy a more efficient HVAC system and lower energy bills.
How Often Should You Schedule an AC Inspection?
AC systems should be inspected regularly to catch potential issues. In humid climates, inspections may be needed twice a year, while desert heat areas may require quarterly inspections. Older units should be inspected regularly, and even new systems can benefit from inspections to maintain peak efficiency.
When you find yourself searching for "AC repair near me," you can rest assured when you find Morey Plumbing, Heating & Cooling, Inc. When it comes to AC repair services, you need a trusted and reliable provider like Morey Plumbing, Heating & Cooling, Inc. Our commitment to quality and expertise in AC repair services ensure that your cooling system is in good hands. Contact Morey Plumbing, Heating & Cooling Inc. today to find out how they can assist you!